Happy Sunday, my fellow polish fiends! Today is
day nine
of the challenge! For today, the theme is
r
a
i

n
b
o
w
! I can honestly say I've never done a full-out rainbow manicure. There's gotta be a first for everything, right?!
To me, the "rainbow" idea is a little daunting because of how many colors it requires... I am not an artistic person, and sometimes matching colors is hard for me (i.e. which "purple" or "green" is right). I was a little nervous about this challenge day. The fact that there was so much creative liberty scared me. Red is red. Blue is blue. Polka dots are polka dots. Stripes are stripes. But rainbow? You can do anything with rainbow. Ahhhh! The possibilities are endless.
I ended up with a rainbow base and a black stamped manicure. Check it out.
My first thought process was.. roygbiv = 7, my fingers = 5. This is where the idea to do half-colors on my nails came from. Then... I stamped.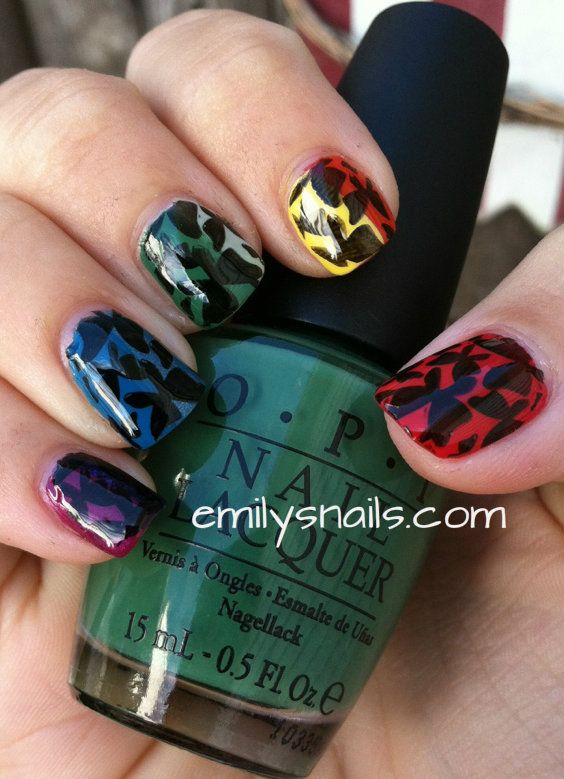 I'll list the colors I used from pinky->thumb:
pinky: OPI Overexposed In South Beach, Love & Beauty Dark Purple
ring finger: China Glaze Shower Together, Brash Electric Sky
middle finger: OPI Don't Mess With OPI, Piggy Polish Poet-Tree
pointer: Zoya Pippa, Essie Meet Me At Sunset
thumb: Essie Ole Caliente, Cult Nails Evil Queen
HOLY POLISH! I've never used this many colors in one manicure! It was a lot of fun to do, though, that's for sure. I used however many coats it took to reach full opacity. For the yellow, it was a few more than for the red. Actually, I only used one coat for my thumb nail- Cult Nails polishes rock!
I stamped with bm-205. I really like this butterfly/bow-looking image. It looks whimsy & fun over the rainbow design, something different.
What do you think? Are you wearing rainbow today, too?