I've made it through a full week of the challenge! Wahoo! I wasn't sure if I'd make it, because let me tell you: painting your nails every. day. and working full-time and going to school is HARD work! It's a great feeling to get a brand new post up on the blog every day, though. I hate hate hate not being able to update regularly, so I try my hardest to fit it into my schedule, no matter how busy I am.
Today is day eight of the challenge: metallic nails! I only own a few metallic polishes, but one of my untrieds just so happens to be Essie Penny Talk from Essie's recent Mirror Metallics Collection. I'm trying to use untrieds for this challenge, so Penny Talk fit the bill!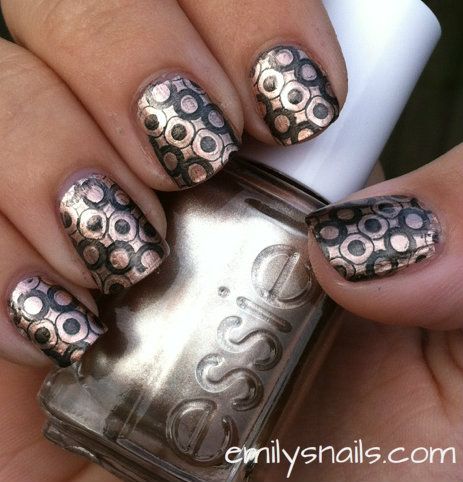 After wearing Penny Talk by itself, I decided to add some stamping to see how that would change it up. The image plate I used is bundle monster-322 (I usually forget to add in which plates I used but I'm getting better at that!). I used two coats of Essie Penny Talk and stamped with the same black you saw yesterday, Nina Ultra Pro Black.
My stamping wasn't perfect but I'm happy with it! As for the Essie, application wasn't horrible, but this polish will show any and all imperfections on the nail, so beware! That's just the nature of metallics. I've heard that this line by Essie is much better than some others.
What do you think!? Are you a fan of metallics?