Hey guys! It's a rainy, dreary morning here in western Massachusetts... I just slept through one class, now hanging out in the library until work at 11. Not feeling work, either! Today is one of those days where all I want to do is sleep, although it seems like those days are every day as of late. I wanted to paint a full manicure with OPI
DS Bold
to show you guys but I ended up not having enough time. I still wanted to fit a post in today, so I figured I would compare the three
Designer Series pinks
that I own.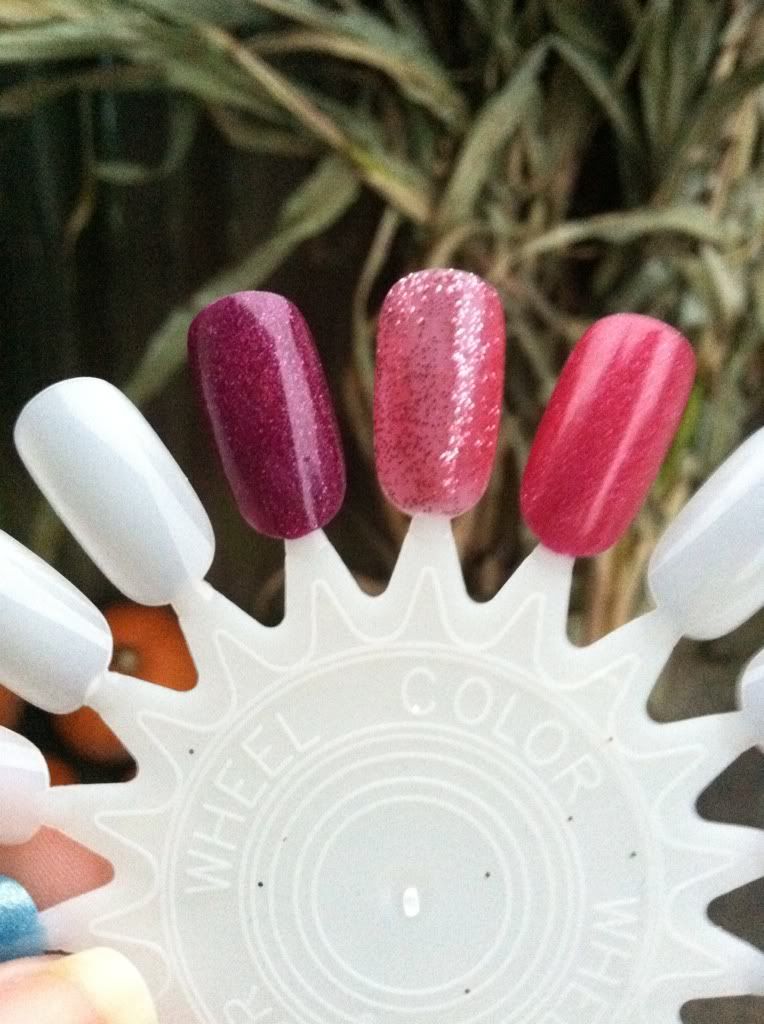 My naked nail in the bottom left, *tear*
L-->R DS Signature, DS Bold, DS Reflection
(1 coat of each)
Of course it was rainy and dark out this morning, so you don't get to see any of the fun holo effect that DS Signature offers. Here's a breakdown of each of them.
OPI DS Signature: a dark pink scattered holo, coats nicely in one coat but I'm anal and always do two. The holo in this one is to die for. I love it. Haven't worn this as a full mani yet! I did a
tape mani with this and Reflection
a few Pink Wednesdays back.
OPI DS Bold: OPI calls this one red, but I'd say it's more of a pink/coral glitter. For my liking it definitely needs 2-3 coats. I just got this one so I haven't done a full mani with it yet.. but it's definitely a sparkly and bright glitter I'm sure I will feature eventually.
OPI DS Reflection: This was my first of the Designer Series collections. I got it back when I was FIRST starting to get into nail polish..
see my first post ever here
! I never used to like it but it's grown on me. It could easily be a one-coater as well like Signature.
My favorite of the three....
is definitely Signature. I love dark polishes and I love holos, so this one does it for me. The three do look cool on the nail wheel together. I'll have to try to incorporate the three of them into one mani someday.
And, to end the post, I'll leave you with what is currently on my nails...
Absolutely nothing! I got mad at
DS Temptation
from yesterday's post because it chipped while I was cleaning. Meh. The picture above is with
nothing
at all on my nails. I quickly swiped on some
Nail Envy
afterwards in the car. My nails are weird and really hard to shape.. My pointer and thumb nails grow in round and the other ones grow in perfectly square. It's hard to shape them a similar style at a similar length so I've just sort of ignored filing them at all the past week or so, which I never ever do.
I'd say that was enough for today.. hope you enjoyed my comparison! Now tell me... which of the three is
YOUR
favorite and why? Do you own all of them? One? None?