No, the title is not referring to Brad Paisley... how I wish it were! He's hilarious, sexy, and has a wonderful voice. Mmmmmm. He always comes to mind whenever I see paisley print. The paisley that I'm referring to comes from bundle monster's third collection of nail stamping plates (the plate I'm referencing here is #315)! If you ask me, this is a genius idea. Who doesn't love paisley?! You can do so much with it. I always like the look of black images over a nude or tan creme, and that's what I decided to go with for this manicure.
At first, I started out with two coats of OPI Don't Pretzel My Buttons. I wanted to think of some clever, unique accent nail... but I failed. I originally went with this look: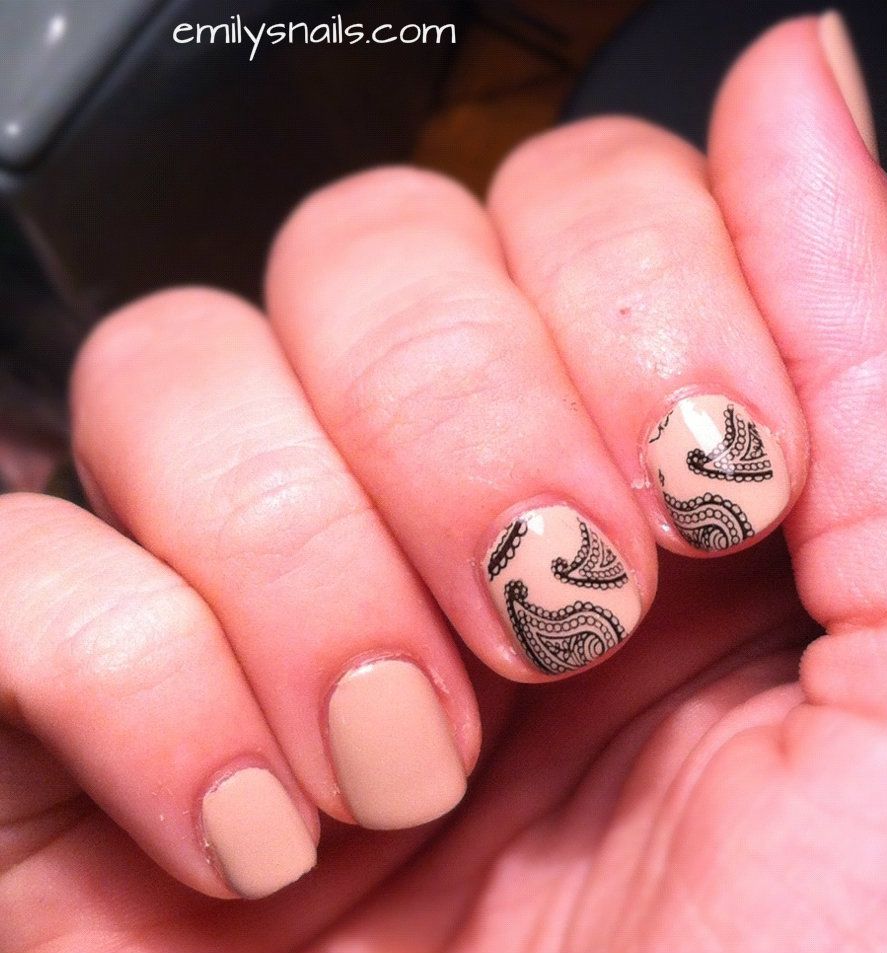 Then, I fell in love with how the paisley stamp looked and I wanted to add more. I didn't like how this looked with only two nails stamped. Thus, I added more stamping and an accent of Cult Nails Happy Ending, from the Fairytale Collection that was released this summer. This was hands down my favorite Cultie collection to date.
I'm not entirely sure how I feel about this combination. I love the paisley, but I don't like how dark the black is in comparison to the glass shard-looking multicolored glitter. It's something different, for sure. Overall, I seriously LOVE Don't Pretzel My Buttons. It's my ideal nude polish, for real. I'll probably wear it a million more times. My only problem with this shade is that I hate my application of it. I usually suck and mess it up by making it too splotchy or by accidentally flooding my cuticles. Oy.
What do you think? Are you a fan of paisley? What about nude polish?
With that, I'm out. Have a great weekend everybody! Tonight I have my first Saturday night off since my vacation in July! WOOO!