So, I'll be honest... I wasn't completely sold on the new OPI collection... in fact, I wasn't impressed with much of any of the shades. I didn't plan on buying any of the colors. I thought they looked gorgeous in the bottle, but not as gorgeous on the actual nail. Well, needless to say I caved and bought two of the colors from the 007 collection, OPI's Holiday 2012 collection. I picked up Goldeneye and The Living Daylights, planning to use them together in a manicure. Well, that's what I have to show you today!
I'm not totally in love with what I came up with, but I'll show you guys anyway. I was in the mood to break out my chevron stamp and do a cute manicure with it. My new James Bond polishes were staring at me, begging to be used (ok, that might be a stretch). I decided to use them as my base for my chevron: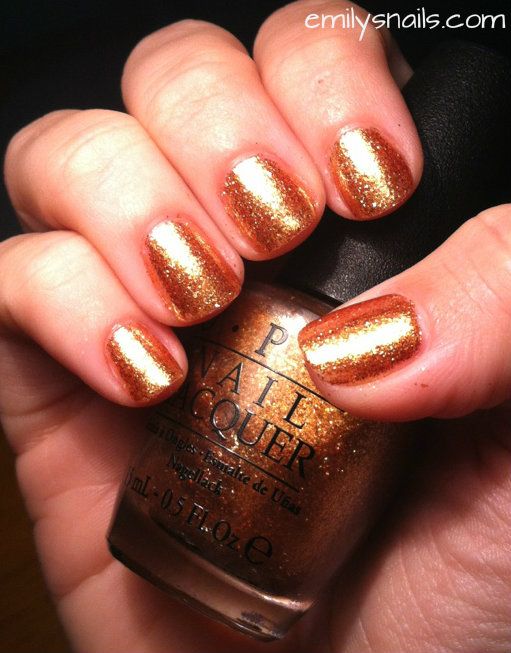 First, I painted three coats of OPI Goldeneye. This is shown above without any top coat. It's so gorgeous and blingy on its own!
Then, as shown above, I added a thick, generous coat of OPI The Living Daylights on to my accent finger. Then, I top-coated each nail with some Seche Vite, my go-to top coat for stamping.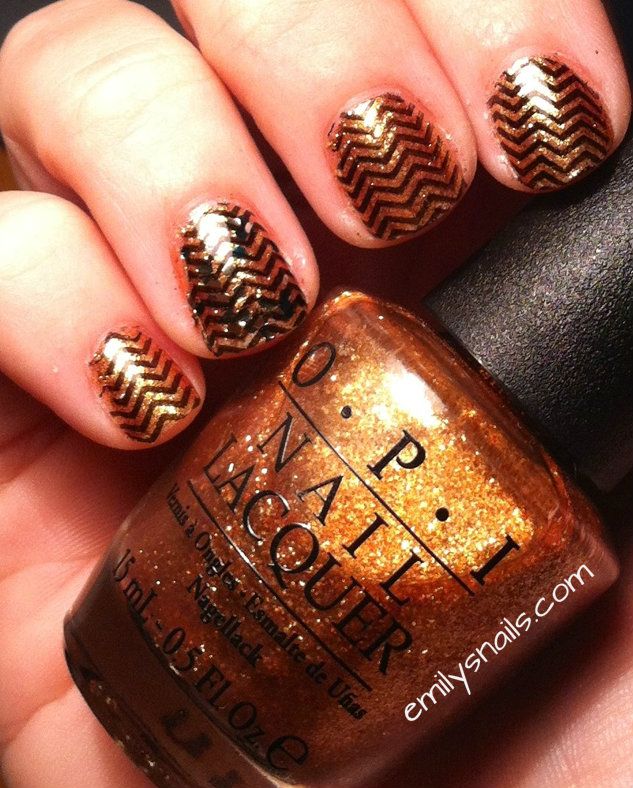 Last but not least I stamped with Fingerpaints Black Expressionism and bundle monster #201. This plate always stamps really clean and it fits my entire nail pretty well.
I personally think this is too busy. I sort of wish I didn't add the chevron. I think Goldeneye would look stunning on its own, which is impressive to say the least. Next time I wear it I'll probably leave it alone and wear it as a full manicure. I've never stamped over a glitter, and I don't care much for it here. Meh.

What do you think? Did you pick up Goldeneye?