While I was gone I requested help from a bunch of my blogger friends to produce posts for my blog. I was so happy with the results. Of course, I had to schedule all of the posts ahead of time so I wasn't able to witness them the day they were scheduled to be posted. Unfortunately, one of the posts' pictures were omitted, which was a shame because the manicure was gorgeous! I'm going to repost it with the pictures, hopefully it'll work this time!
Katy's blog
Nailed It
is awesome. She's extremely talented. Under these pictures, I'll include Katy's commentary- be sure to click view more to see her how-to!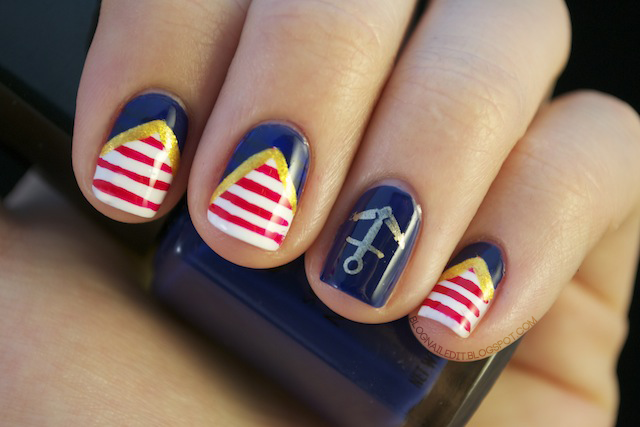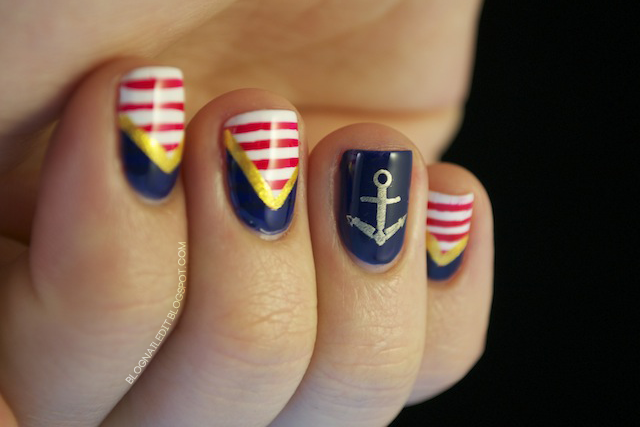 To get this look required a lot of time, patience, and patience. Especially for 4 out of 5 of my nails. I started the whole shebang with a base of
French White Creme
(Wet n' Wild), then striped some red lines using
Be My Valentine
(Sinful Colors). I really love the nail art brushes Sinful Colors makes. I use them all the time. You may remember
Be My Valentine
from my
popcorn nails
. The brushes are really easy to work with, but I don't recommend any neons. They're too difficult to translate onto nails because their formulas are so thin. Continuing on.
After the stripes, I painted a layer of
Seche Vite
over everything. This step is essential for taping. Ignoring the topcoat at this time will result in the whites and reds peeling up off of your nail, and I promise you don't want that. When
Seche Vite
dried (all of 2 minutes later), I applied tape to the top half of my nail, so all that was untaped was a fat V shape near my cuticles. Each nail was taped individually, and once covered,
Moody Blues
from Ulta was slathered on for the navy. Two coats sufficed, then I immediately removed the tape. All of my prior manicures using tape were done leaving the tape on, waiting for the polish to dry,
then
removing it. Re-reading Erika's blog (
Chloe's Nails
) revealed this to be a mistake. Removing the tape right away leaves much cleaner lines.
Finally, once all that was said, done, and dried I striped some gold lines over the V of Moody Blues using Gold Digger from Color Madric. Again, awesome striping brushes, but difficult to procure if you're not in Southern California, or know someone who is.
For my ring finger, the process was much easier. All that was done was painting a base of
Moody Blues
, then stamping the anchor image (BM 8) with
Passion
(China Glaze).