Hi ladies! Welcome to day five of my guest blogger festivities! Today I have Jessica from The Ivy Forest showing off some awesome nail art. Enjoy!
Hello everyone! I'm Jessica, of TheIvyForest.blogspot.com, and I'm so happy to be guest blogging for Emily today! I had so many ideas on what to do for this post, but I bought a new polish recently, I knew I had to feature it in a manicure!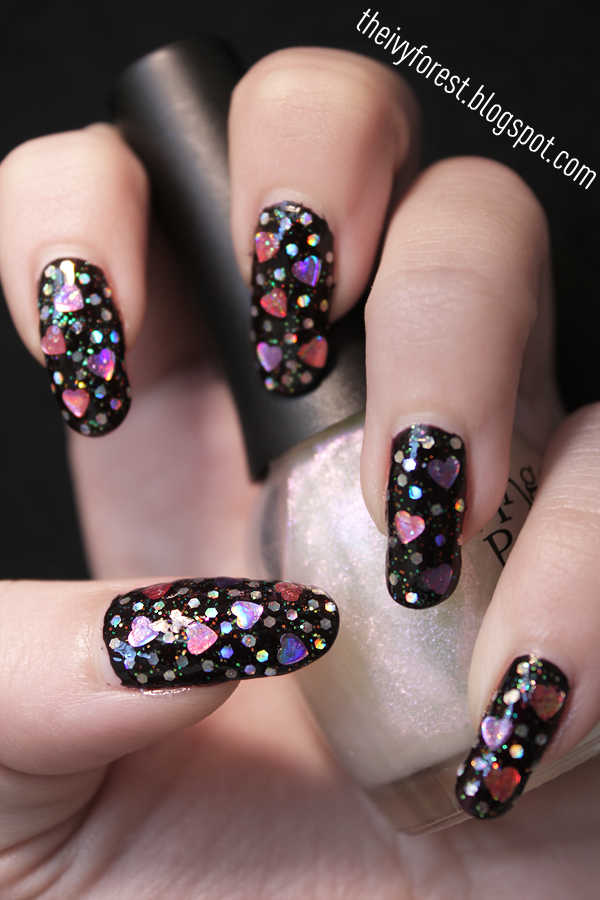 I've been calling this My Dark Valentine! For it I used
Sally Hansen Insta-Dry in Uptempo Plum for the base color
Nicole by OPI Step 2 The Beat of My Heart for the heart glitter
Covergirl 3-in1 Fireworks LE for the silver glitter
LA Colors Crystal Glitter for the micro glitter
and a few coats of Out The Door to top it all off!
Quite the glitter fest! You'll find a lot of mixed reviews on Step 2 The Beat of My Heart- the hearts don't like to come out en masse on their own, not one bit! For this mani, I fished them out with the brush, and used a bamboo toothpick to place them on the nail. Doesn't take very long at all, plus you can get the hearts exactly where you want! For this, I liked them all facing the same direction, as if they were floating up~
After getting the hearts down, I used the same 'fish-and-place' technique with Fireworks LE, scattering the glitters around the hearts… I got a little crazy on my thumb nail, ha! I was really in the grove of the glitter by that point!
Both Step 2 The Beat of My Heart and Fireworks LE have micro glitter suspended in their bases, but I opted to use Crystal Glitter instead- it only required one coat for this mani, and I think layering it over the heart glitter really helped make them shine an extra bit! I really could not stop looking at my nails, I loved this combination!
I debated for quite a while on what to use as my base color… I think I changed my mind at least a dozen times! I almost used a sparkly neutral gold color (an idea I'll probably revisit soon), but ultimately decided on Uptempo Plum, an ultra-dark purple (that might as well be black)! I feel like a dark color really makes those heart foils pop! I'm all about contrast, and to be honest I'm not really an ultra-girly girl, so using a very dark color worked out perfect for me.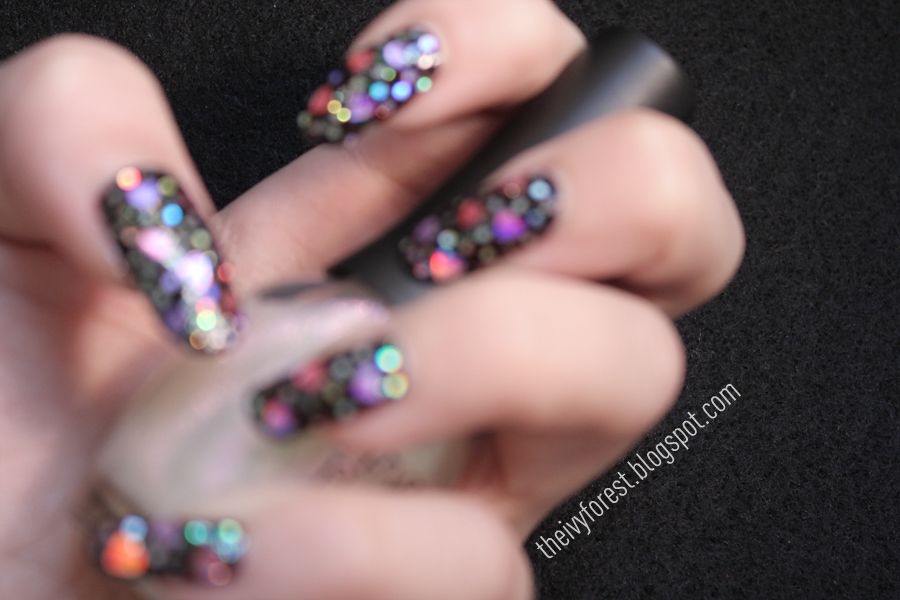 It was a bit tricky to get a photo that showed the range of colors coming off this mani, so I've included this blurry pic. I think it shows off how well the light reflected off of all the glitter!
So, honestly none of the polishes I used for this mani are really suburb on their own, but combined, I think they are really amazing! Uptempo Plum makes a great, quick drying base, Step 2 The Beat of My Heart will be endlessly fun to play with placement, Fireworks LE is wonderful for adding accent glitter pieces, and Crystal Glitter is just lovely to layer with!
I hope you've all enjoyed my post! I had a lot of fun putting my idea for this mani into action. And many thanks to Emily for giving me the chance to guest blog for her! I hope she's enjoying her vacation!
♥ Jessica