Thank you guys so much for following my blog! :) I've been on here for a few months and thought that NOBODY was ever gonna follow me. It's exciting to know that people are looking at my posts! This nail polish addiction is growing so fast, omg. Yesterday I bought 2 Nicole by OPI Mattes from the department store Marshall's. They're called
Respect The World
and
No Limits
. I love these names. As you can tell, I'm developing an obsession with blues!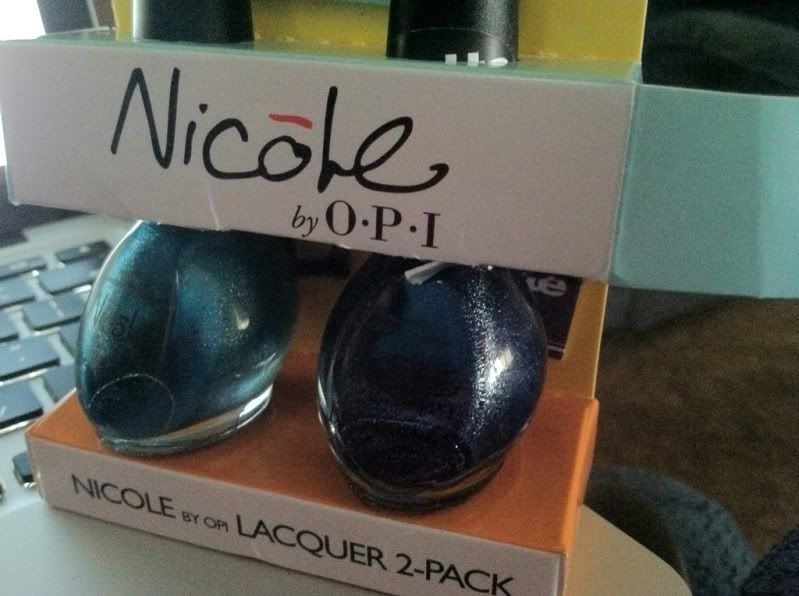 Bad picture quality, but I'll take better ones when I actually use these polishes. Respect The World is on the left and No Limits is on the right.
These polishes were $6.99 as a set which I thought was a great deal. Yesterday I also purchased my first Konad plate, polish, and scraper. I'm super excited to get these in the mail. I bought them from the BornPrettyStore, not sure if they're actually Konad but they are nail stamper plates nonetheless! So excited. I also just bought Essie
Watermelon
from a blog sale, so I'll be having some nice deliveries shortly. Thank gosh it's pay day, that makes me feel a little less guilty about these purchases!
Here are a few outdoor pics of yesterday's mani. It's just so pretty, I can't do away with it yet.