Not feeling too talkative so I'll get right into my
notd
. I was feeling very inspired last night. I originally planned to do a solid nude color with black stamping, but I saw
this manicure
using the exact same stamp I planned to use and I loved this way more.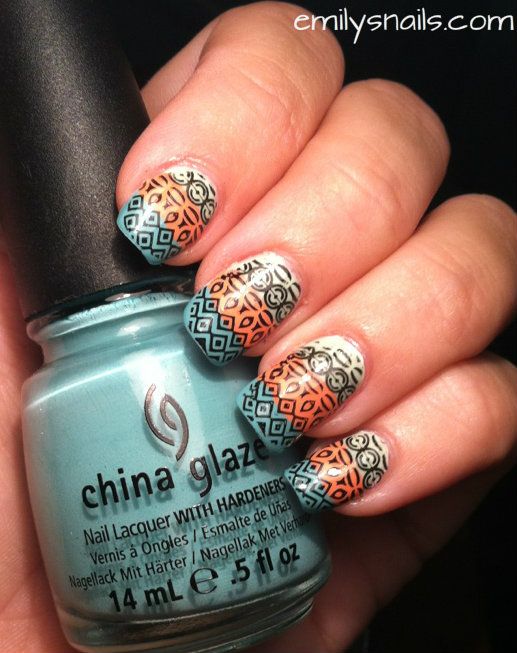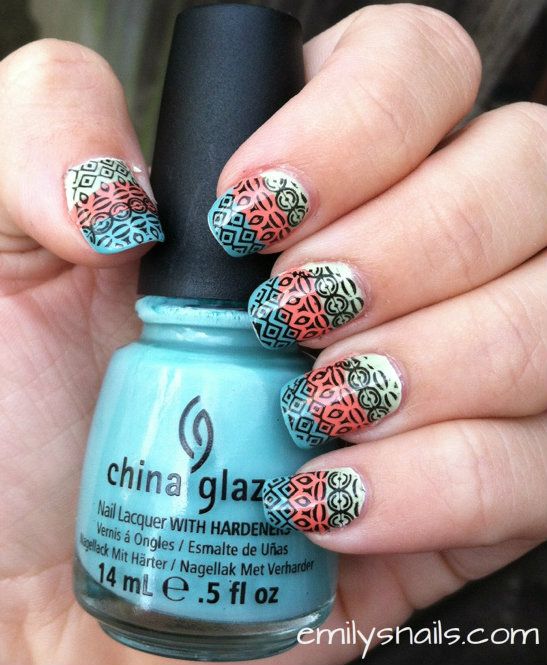 For this manicure, I started off with a base of OPI Alpine Snow- just one coat. I then painted on stripes with my three pastel colors. Using white under any polish will simply make it brighter on the nail. I started painting without a white base and I just didn't like how it looked.
On the bottom-most part of my nail near the cuticle is Piggy Polish Poet-tree. The middle is Essie Tart Deco, and the top (and bottle shown in my pictures) is China Glaze For Audrey. I started with the green, then did the blue. I then went halfway between the two to add a stripe of the coral. All of that polish looked pretty clumpy, but I smoothed it out with a coat of Seche Vite (after letting it dry a long time; no way was I gonna mess this one up). After waiting a while, I stamped using Fingerpaints Black Expressionism with bundle monster image plate #315. I love this image! Absolutely love it.
All of the polish I used cooperated quite well. I have no complaints with this manicure. In some areas my stamping was a little funny but I've gotten so many compliments on this manicure; others don't really notice the imperfections quite like your own self does.
What do you think? Do you like my color choice? What about the tribal look?