I apologize for the lateness of this post! I work the entire holiday weekend and it blows. Sometimes, work gets to the point where you wonder if the money is even really worth it. For day 2 of the challenge, I decided to use the color I used for my senior prom! While all of the other girls in my class were getting tacky acrylic tips with French manicures, I was scoping out Sally's for a color to complement my turquoise blue dress. I fell in love with the orange/turquoise combination. Here it is!


This is two coats of Fingerpaints Original Orange and a coat of Icing Tiger's Blood on my accent nail. I like the way this came out! I wore Original Orange by itself with no accent nail for prom; I wasn't that into nail design at the time! Of course I've gotta include a few pictures from that wonderful night...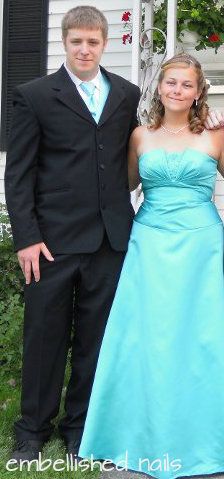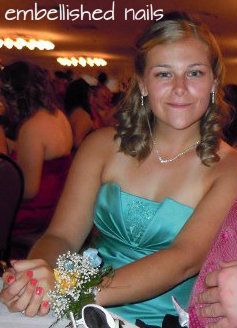 The top picture is of my date & me, the second picture showcases my mani! Had to cut a guy out of it lol! That was such a fun night- definitely exceeded my expectations. & I'm glad I did my nails myself! I got so many compliments on that color.
What do you think? I'll be posting my yellow day three mani later today.