Birthdays are so much fun to celebrate. As you get older, they tend to get less fun, but you have those monumental birthdays that are always still great (despite the whole aging factor). 21. 30. 40. 50. Today is my best friend's mom's 50th birthday! I've been friends with Meghan for as long as I can remember- we met in kindergarten and used to go to eachother's houses to play Barbies or mess around on AOL Chat. Oh, the good old days! In 5th grade, I begged my mom to take one of the kittens Meghan's cat had. My mom was adamant that we didn't need another cat... but I was able to win her over the minute she held him! Hard to believe that was already so long ago.
Anyway, Meghan is an amazing friend and always will be. She's one of those who is going to be there for life. Meg gets a lot of her amazing qualities from her mom, who is equally as great. They hold a special place in my heart, and I'm excited to be celebrating Meg's mom's "chapter five" as she likes to call it tonight at a SURPRISE PARTY! Of course, so as to not ruin the surprise, I'll schedule this post to appear at 6:00 pm, at which point the party festivities will be well under way. Heh heh. We threw my mom a surprise 50th a few years ago and it was a BLAST! I love surprise parties. So great. Can't wait!
Which polish could I possibly use on my nails on such a day other than the great Deborah Lippmann Happy Birthday !?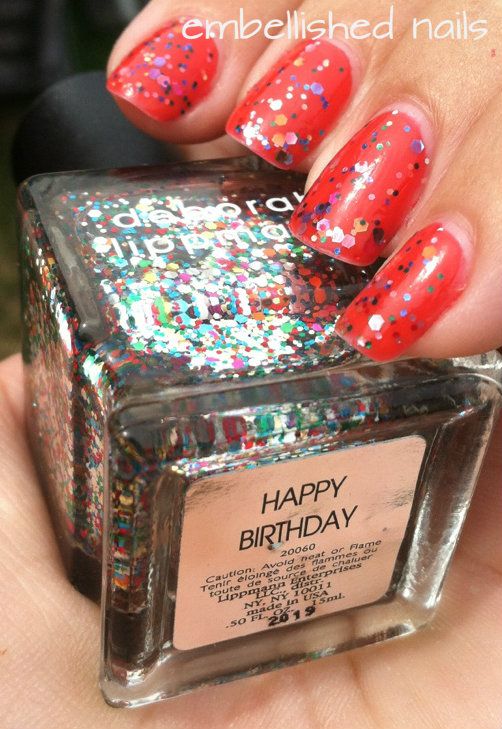 To achieve this look, I used three coats of OPI Big Hair.. Big Nails, one coat of Deborah Lippmann Happy Birthday, and another coat of Big Hair.. Big Nails topped off with some good ol' Seche Vite. This is known as a "jelly sandwich"- a softer way to wear glitter and an interesting change to a mani! The OPI I used (from the 2011 Texas Collection) is a jelly finish, which means it's much sheerer & more "squishy" than a normal creme.
I love the idea of a jelly sandwich manicure but every time I try it I'm just never in love with the look. Eh. I'll actually be re-doing my mani before the party because as you can see I ALREADY have tipwear and some chips from an early-morning shift at the shoe store.
Do you like the look? Have you tried a jelly sandwich yet?