I never know what to put on my nails anymore. I seriously have more polish than I'd ever imagined would be humanly possible. I opened one of my melmer drawers and the first thing that came to mind was
UNICORN PUUUKE
, the very exclusive and discontinued and not available anymore flakie by who other than my favorite brand,
Cult Nails
.
They released 275 bottles of Unicorn Puke last fall during a presale (
click here
to see my original post with UP, posted in October of last year!). It sold out so quickly, and they re-added Unicorn Puke to a collection under the name
Clairvoyant
. That sold out too! This is a huge lemming for some people, and is practically unattainable. I'm so lucky to have gotten a bottle- and to think, I
almost
didn't buy one! Now, I wish I bought two.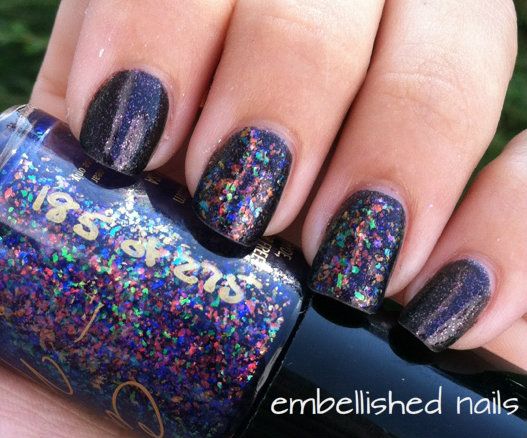 This picture shows my bottle's number: 185!
Shown is two coats of
Cult Nails Mind Control
and one coat of
Cult Nails Unicorn Puke
on my middle and ring fingers. Love it. There's no way I'd do a full manicure with UP just because I don't want to use it all up! It looks great as an accent!

Did you scoop this up last year, or do you have Clairvoyant? Do you still like flakies, or have they been overdone?