Queue
Rodney Atkins'
About The South
right about... now.
What I love (what I love)
About the South (about the South)
If you need a Dixie Fix just a' come on down
It's what I love (what I love)
About the South (about the South)
Southern Belles with a drawl make you stop and drop your jaw, come on y'all, shut your mouth....
It's what I love about the South.
Let's recap the past few years of my life, shall we? Rewind back two years from now. I was dating a guy who was in the military and was stationed in the south. At that point I had never really listened to country music. Upon going down to visit him the first time, I seriously fell in love with everything about Georgia. The people, the food, the accents, the weather... everything. Mr. Military and I eventually broke up, and it was one of the hardest things I went through in probably my whole life. I truly did think that he was my soul mate. It took a lot of getting over, and I was secretly so bitter and hurt every time somebody in uniform passed me, or if I saw a painfully cute military couple on Facebook or something. I mean, I'm over it now, but it was so much hurt at the time.
I'd like to thank my girl Sarah Evans for helping me deal with that breakup. I heard her song A Little Bit Stronger online and it became my anthem. Her music, especially that song, got me through that stage in my life. Seeing Sarah much later that year and hearing her sing that song in person was like closure for that chapter in my life. Thanks again, Sarah!
Little did I know that that one song would be the start of the best part of my life. I began to absolutely LOVE country music and all things country. I started going to country concerts like it was my job. Last fall, my best friend and I vowed that we would road trip to Nashville the next summer. It was one of those dreams in the back of your head that you really wanted to happen, but figured never would.
On Friday, July 20th of this year, we set out for the south after months and months of anticipation and excitement. (PS: I didn't realize how lengthy this post was but I don't even care. If you're still reading, thank you for caring! Pictures are coming!) We did so much driving and spent so much money but it was all so worth it. Here is the trip summed up in pictures.
We'll start at the beginning.
Some family of mine had recently relocated to Maryland from California, so we spent one night at their house and I got to cross seeing the nation's capital off of my bucket list. Such an excellent experience, but hard to do in only one day. Highlights were seeing the White House, the Lincoln Memorial (above, of course) and checking out the Holocaust Museum.
The next few days we spent in Atlanta, Georgia. We got to attend the final match of the Atlanta Open that was held right in the city at Atlantic Station. It was a beautiful day, and it was amazing to see this match in the middle of the city. For those of you who don't know, this is Andy Roddick, an extremely famous American player.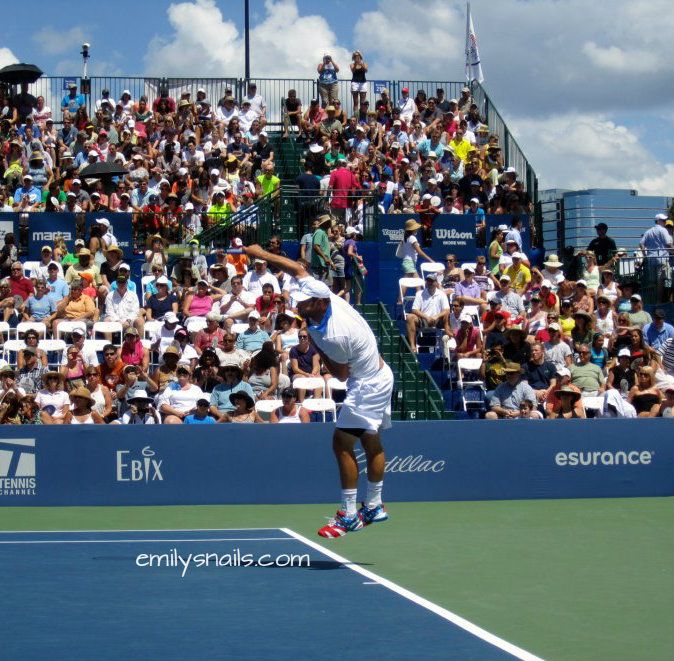 Our seats were in the front row, so we got some amazing pictures. Definitely a once in a lifetime experience, for many reasons but two main ones: Andy Roddick retired after his next big match, the US Open (this was his last title to win before retiring) and the fact that Andy only signed about eight autographs, and he came over to us and signed our balls first! I'll never forget this day.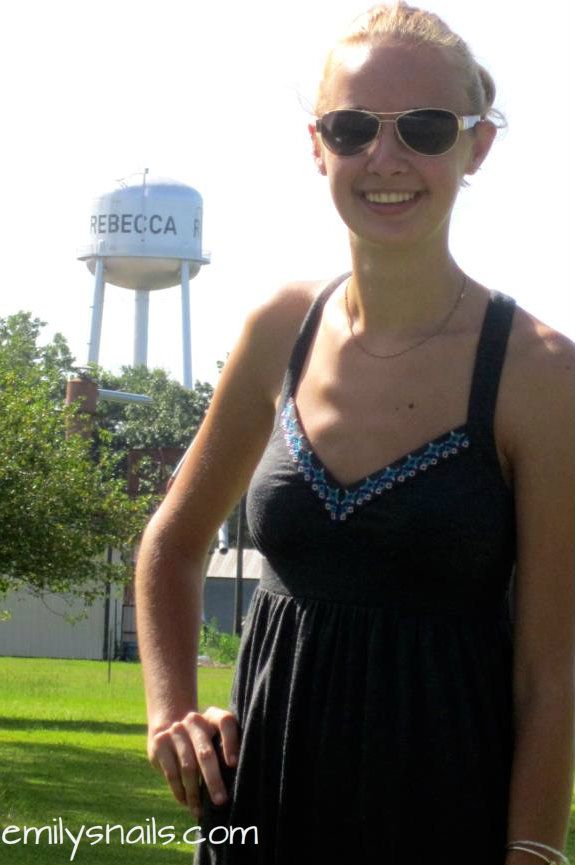 We detoured almost three hours south of Atlanta to go to Rebecca, Georgia, Becca's namesake hick town. Definitely worth it.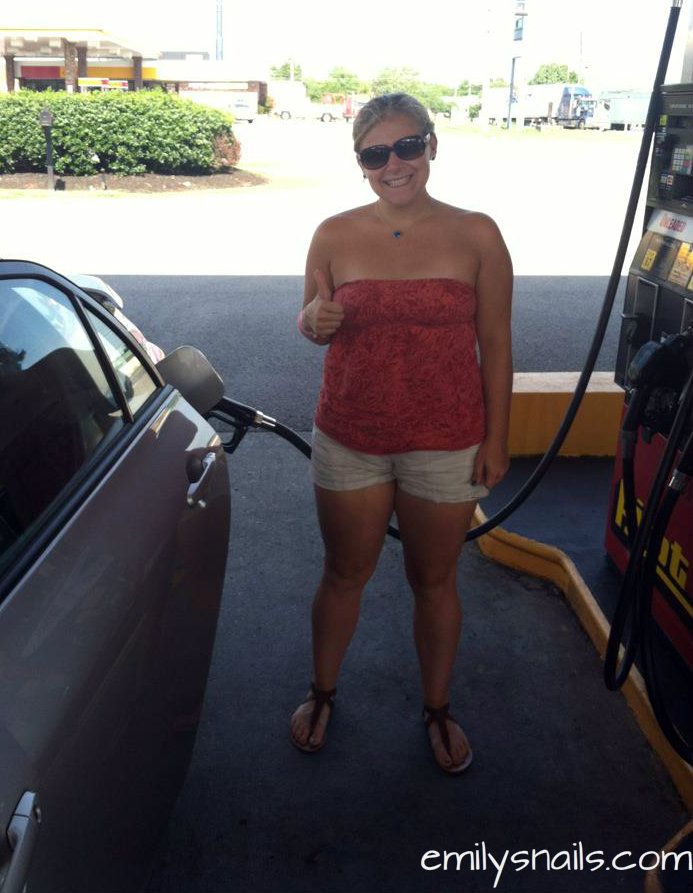 I got a kick out of the fact that the pumps still had pump hooks, if that's what they're called? Up here in New England they're removed from the pumps and they were made illegal for fire hazard reasons. BOO, Massachusetts. One of the many reasons the south is superior, at least in my eyes.
Tennessee state line. :') A moment we waited for for so, so long!
In downtown Nashville. LP Field was to our left, behind us is Hard Rock and behind that is the Batman Building. We dined at Hard Rock that night.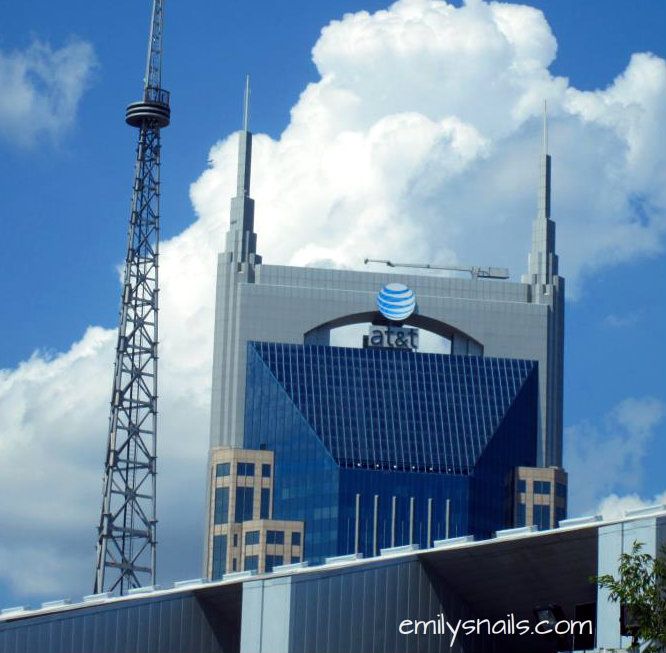 Here's a better view of the Batman Building. It's so cool looking.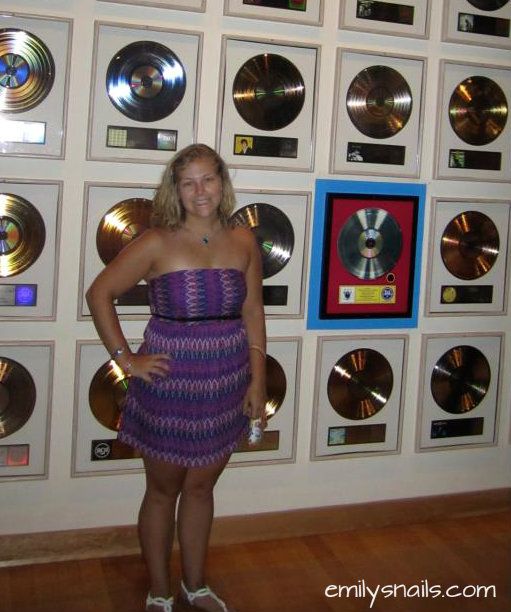 We had to spend a few hours at the Country Music Hall of Fame & Museum. It was definitely cool to see.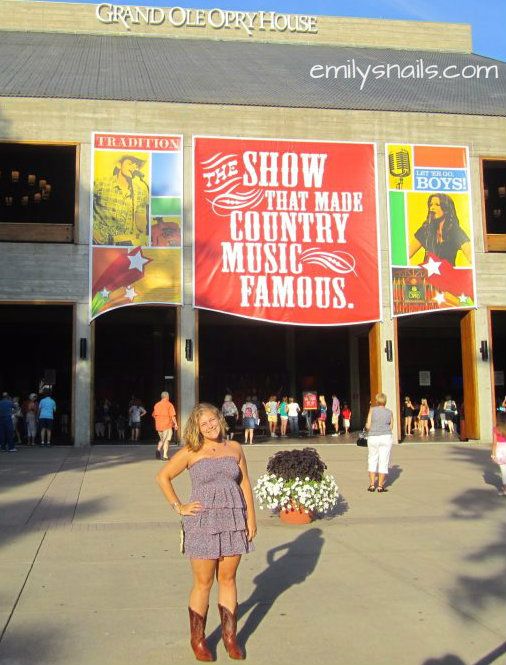 The Grand Old Opry, where we saw Lauren Alaina and Rascal Flatts perform. This is my favorite picture of myself probably of all time.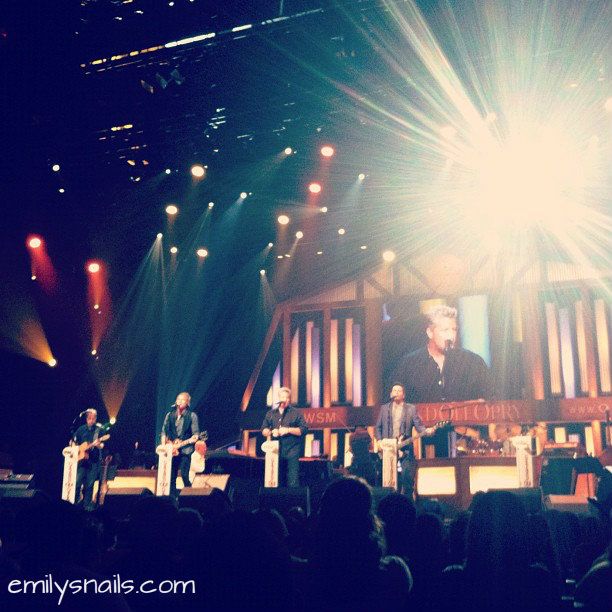 I took this picture from my Instagram. This is Rascal Flatts performing at the Opry. The acoustics and atmosphere here is like nothing else. We were sitting in the eighth row. Another memory I'll have with me for life.
We got to do lunch with a fellow nail blogger, Livy Lu Lu! I've loved Olivia's blog since I first started blogging. She lives in Tennessee and I asked her what some of her must-see locations were in Nashville. We decided to meet up, and we did lunch at The Cheesecake Factory. I got to meet her and her awesome grandma for the first time, and we had such a good time. I can't wait until my next trip down south so we can hang out more.
A few days later we stopped in Pigeon Forge, TN and spent the night in a really disgusting hotel. The minute I walked into the room, the curtain rod completely fell and almost hit me... needless to say we got our room switched, but Becca couldn't pass up this photographic moment. So. Hilarious.
We decided to stop at the beach on our way home. We actually almost cut this out of our trip but I'm SO glad we re-added it. This was at Ocean City Beach in Maryland. It was our first time here, but it's definitely one of my favorite beaches that I've been to. It was gorgeous, and had an amazing boardwalk and lots of beautiful lifeguards.
We were laying on the beach half asleep when this photographer came up to us and asked to take pictures of us. It was one of those guys who tries to sell you your pictures in keychain/magnet/other touristy shit-form. I absolutely HATE getting sandy, it's a serious pet peeve of mine. I decided to go with the flow when he told us to lay down, with the oldest on bottom (of course, me). We bought copies of this picture for our scrapbook (that we still have YET to put together.. ahem Becca?). I think it's precious.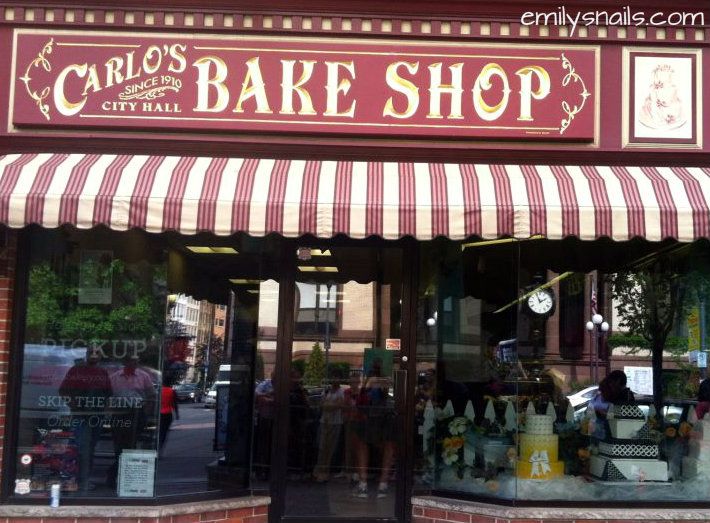 We decided to ease the pain of returning home by stopping at Carlo's in Hoboken, New Jersey on our way back up. If you don't recognize the name, Carlo's Bake Shop is the bakery that was made famous by Buddy Valastro of Cake Boss, a TLC show. Everything was way overpriced but we didn't care. We went for the gold with $35 worth of cookies, cupcakes, and other noms.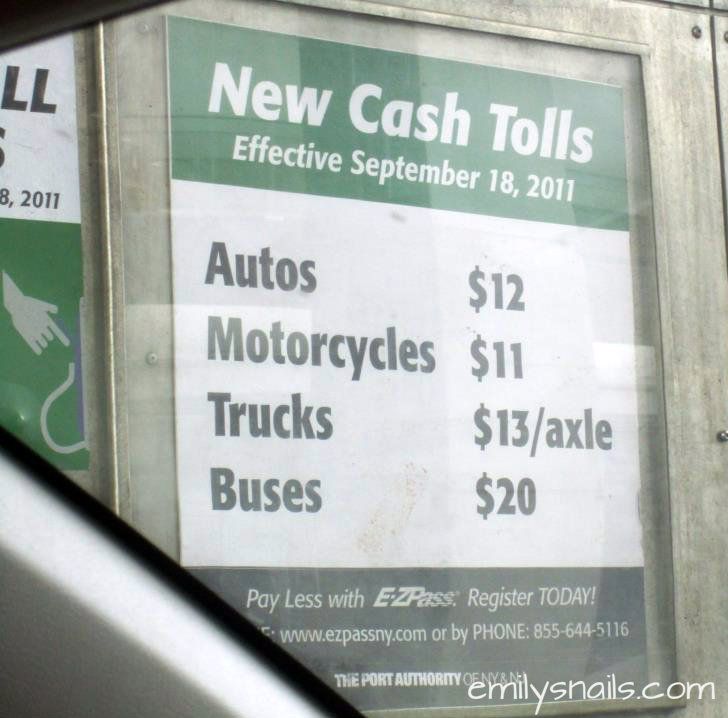 And last but not least... we used all of our toll money going down, and completely forgot about the tolls going back up... We hit this extremely pricey toll cost to go through a tunnel in NYC... we had absolutely no money left, and had to scrape together the $12 in change. We backed up traffic a few miles and nearly had a heart attack, but we managed to successfully find the twelve bucks. Hilarious to look back on, embarrassing at the time.
It was hard to narrow down to that handful of pictures. Just such a great trip. The moral of this story is:
I fell in love with country music because I broke up with the biggest love of my life. That led to an even greater love, plus so much more: a new car (because my old car would not have made it that far south- is that bad motivation to make a $23,000 purchase?), the best vacation of my life, an out-of-this-world bonding experience with my best friend, ten nights of hotels (I. LOVE. HOTELS.), new friends. I could keep that list going on and on and on, but I'll stop it there. Becca and I live by the EHFAR phrase and I think you should too. Rain leads to a rainbow, a closed door leads to another open one. Stay positive, fellow polish lovers! If you're going through a rough patch, things will get better.
WHO ELSE LOVES THE SOUTH? I am so insanely jealous of all of you southern belles. I feel like I was born in the wrong part of the country.