Hey girls! I am up in New York on a mini vacation with my mom. It's really nice to get away, let me tell you! We did a ton of shopping yesterday, when I found this pretty color. We don't have the brand
CQ
in drug stores back home, or at least I've never noticed them. One of my favorite bloggers,
Olivia
, has blogged about this brand before.I picked up
Slate
and
Idyllic
.
Slate
is a dark teal blue, with somewhat of a green hue.
Idyllic
is a red/purple duochrome. These colors are
perfect
for fall.
On my thumb and ring fingers is Sally Hansen Crackle Overcoat in
Fractured Foil
. Topping the other three is Claire's
Glitter Top Coat
. I also put a coat of
Gelous
over the mani (I was gonna use it as my top coat because my Seche is almost out, but I just
need
that Seche on top of it).
check out this cool ring I got at Banana Republic. I got some great deals there today (even got a polish!)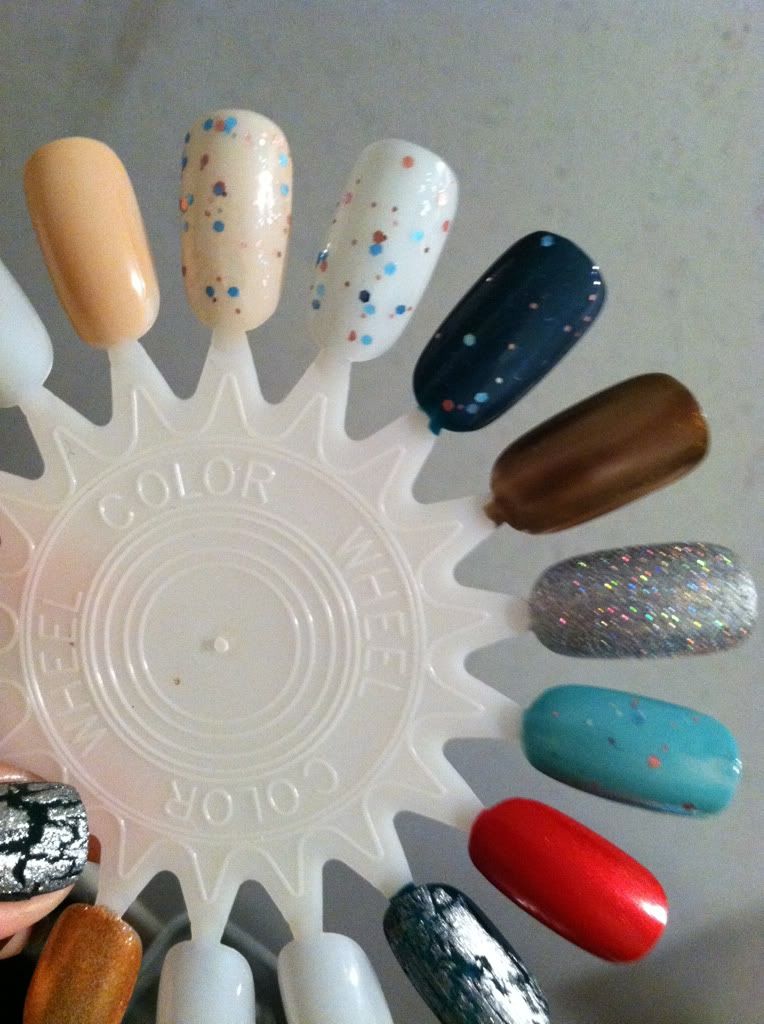 This is what I go through when I'm trying to pick out a polish to wear. All of my nail wheels are like this- no real organization. The top is a preview of the
Deborah Lippmann
's I won from
Kayla Shevonne
's giveaway. Then there is my two
CQ
polishes, here
Slate
is topped with
Glitter In The Air
. I wanted to see how
NFU OH 61
would look underneath the Claire's
Glitter Top Coat
.. def. a future mani in the workings here!
Anyway, I hope you all have a happy Monday! I don't know what we're gonna do. It's just nice to be away and relaxing, you know? :))